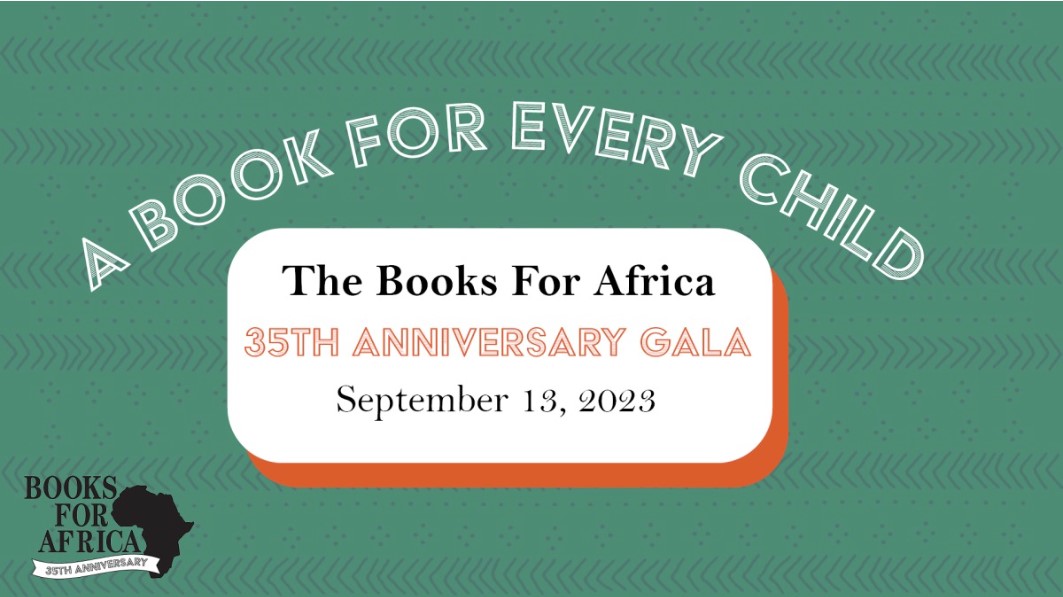 Join Books For Africa supporters from near and far, including African ambassadors and embassy representatives, in Minneapolis, Minnesota to celebrate 35 years and launch our newest initiative: A Book For Every Child.
This event features dinner, live music and the chance to connect with BFA supporters from around the world.
When:
September 13, 2023 - 6 p.m.
Where:
The Depot Minneapolis
225 3rd Ave S, Depot Pavillion
Minneapolis, MN 55401
USA
Event Itinerary:
6:00 Registration
6:00 - 7:00 Social Hour
7:00 Dinner & Program (including live auction and Fund-A-Need)
You can purchase tickets by clicking here, or preview our auction items or buy a limited-edition 2023 World Literacy Tour t-shirt!
Help Books For Africa celebrate how far we have come, and re-commit to 35 more years of improving access to quality education for students throughout Africa.

Books For Africa remains the largest shipper of donated text and library books to the African continent, shipping over 58 million books to all 55 countries on the African continent since 1988.  Last year alone, Books For Africa shipped 3.2 million books, valued at over $26.7 million, and 355 computers and e-readers containing over 1,065,000 digital books, to 27 African countries. More than $2.3 million was raised last year to ship these books to the students of Africa.
To learn more about groups currently fundraising to ship books to specific African countries, view the Projects page.
To learn more about the Girls Empowerment Collections, BFA Publishing, Law & Democracy Initiative, Agricultural Libraries, or French Books view the Special Initiatives page