Operation Gusii Books 2: Mission Accomplished!
Operation Gusii Books 2: Mission Accomplished!
"Education is the key investment and it is the right thing to do" – Father Obanyi
The goal of Operation Gusii Books 2 was simple: bring more books to Gusii community and Kisii County in Kenya. Thanks to a partnership between Minnesota Kenya International Development Association (MKIDA) and BFA, that goal was accomplished.
In July, MKIDA sent a law library of almost 500 new books donated by Thomson Reuters to Kisii University College, with support from the University of Minnesota, along with enough books to fill the libraries of 57 primary schools in surrounding Kisii County.
The books were accepted at a grand ceremony. Community leaders commended the efforts of BFA and MKIDA and told of the importance of books. Father Obanyi, Vicah General in the Diocese of Kisii, thanked the donors for their generosity, saying that only through quality education will the living standards of the community be improved.
The Chairman of Kisii University College Council, Professor Nyasani, proclaimed that "education is a tool that sharpens, enables, empowers and liberates," while the Director of Research and Extension, Professor Shitandi, spoke of research as "vital in narrowing the gap between the known and the unknown."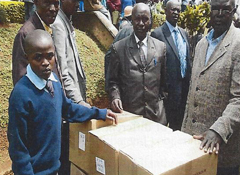 The students of both Kisii University College and Gusii, Kenya, will learn and grow for years to come with libraries that are now full of BFA books.