Liberians in Minnesota Project (Tony Kona Fele/SAMDA) - Liberia
Project Goal: $15,000
Current Progress: $1,509 (10.00%)
Donate Now
Sometimes as Liberians, we wondered what is Liberia's position today in the world. A country that was vibrant in Africa and leading the way for decision-making now remains closed to the world's order. Well too much thinking and reflection as we sit and see Liberian counties representatives in the USA coming forward to step in and help the younger generation who are demanding order in our country's direction. As we reflect, one of the most recent catching moments that comes to mind is this "say it all photo... PAPA NAN COME" below: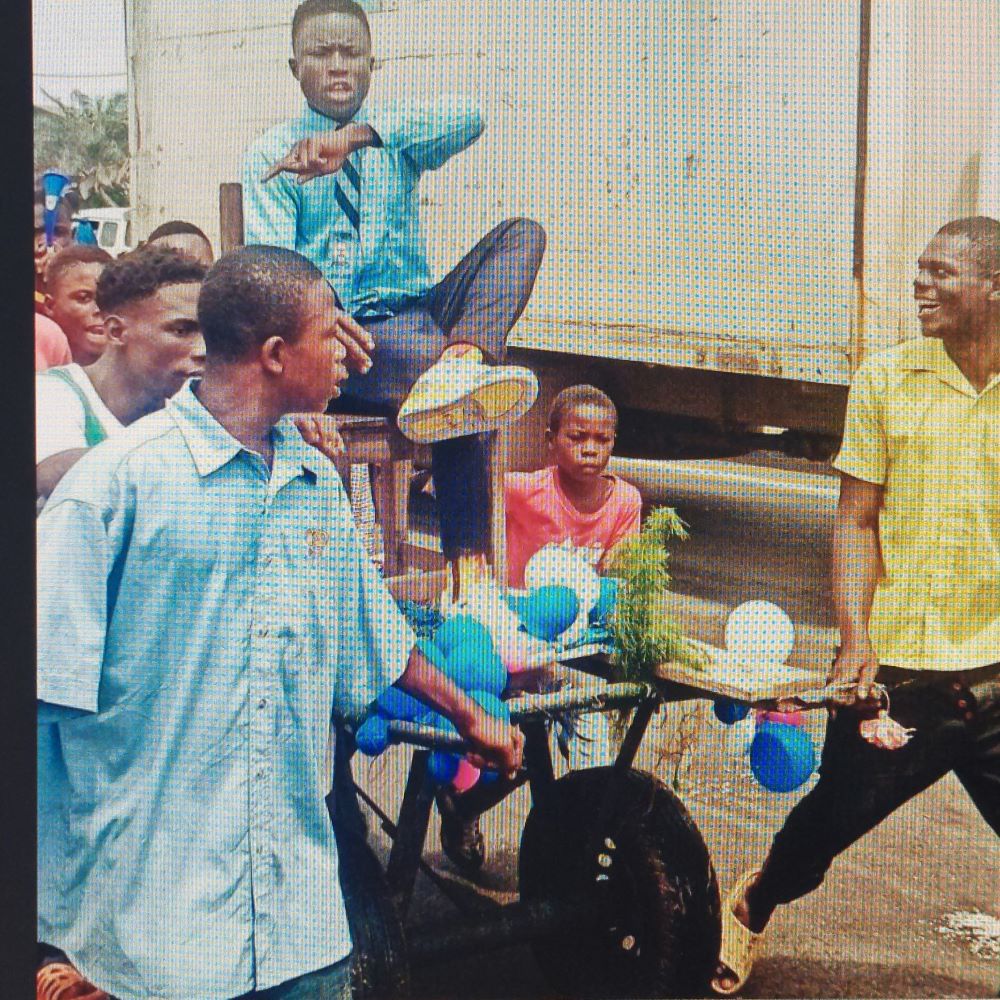 This picture is about a young Liberia child that is so proud of his father's effort to contribute to his education which he wants the world to know. He is seen here over the push-push his father has been using to put bread on the table for him. This picture touches the emotions of many viewers in the world with similar stories.
This is what her excellency Ellen Johnson Sirleaf, the former president of Liberia, will consider "PAPA NAN COME," a typical greeting and emotional song sung by young Liberian kids who are so proud of their father for his sacrifices from working to keep the roof over their heads.
You can tell from this picture how proud he is just from graduating from high school, especially for kids like him in a country where efforts to even pass a national exam seem very remote because of the many shortcomings in students' preparation in 75% of schools!
This photo also signals some emotion, especially for grassroots kids like us who have walked the same path as this child to see ourselves working in many sophisticated environments here in the greatest country (USA) on the planet.
As we gathered on this zoom call, one thing that comes to mind is forging the way for as many Liberian students to be added to the child on this picture by working with Books For Africa to send more books to Liberian colleges to help families meet some of the needs. We are so proud of these Liberian counties (Bassa, Margibi, Maryland, Nimba and River cess) in Minnesota for stepping forward to take the initiative.
We are calling on all Liberians in Minnesota to help us take the next boxes of computers, science, math, English and literature textbooks to colleges in Liberia with your donation to Books For Africa.
Fele
For all of our volunteers
Contact: Tony Kona Fele, tonykona_fele@yahoo.com