Donate to a Project
This map highlights the African countries in which a group is fundraising for a book shipment. Scroll over the country that you would like to donate to. Details will show in the pop-up screen or below the map when clicked. Or click on a specific project in the list on the right.
To donate to a specific project by clicking the "Donate Now" button on the project page.
If you prefer to make your donation by check, you can send a check to our St. Paul office. Please indicate the project you would like to donate to in the memo line.
Checks should be mailed to:
Books For Africa
253 E. 4th St.
Suite 200
St. Paul, MN 55101
Nigeria
Briska-Books for Ga'anda and Lala Districts (Sekenwa Briska, Catherine Martignacco) - Nigeria
Project Goal: $16,400
Current Progress: $14,410 (88.00%)
Project Start: 11/01/2011
Donate Now
Ga'anda and Lala are Districts in Nigeria in a remote area far away from local government headquarters with bad, inaccessible roads. There are several villages without primary schools. The few primary schools in the area really need to be equipped with libraries and books for students and teachers to ensure quality education. It was only in recent years that junior high and senior high schools were established. The need for libraries and books for teachers and students has become necessary especially for junior and senior high schools. Preparing students for colleges and universities has been poorly achieved due to lack of sufficient educational materials. Both teachers and students need these materials to help them in developing and empowering of the future generation.
Secondly, Brønnum Lutheran Seminary (BLS) was recently upgraded to degree program, and it needs to be equipped with current theological and religious books to replace outdated materials in the library. The Seminary also plans to establish a masters' degree program in the near future to meet the Christian educational need of the growing population of Christian community in the north eastern Nigeria and West Africa as whole.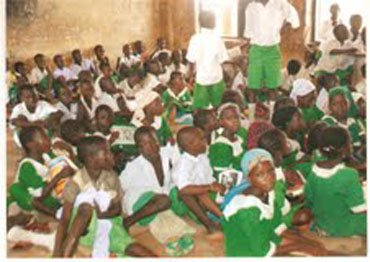 Education is the bedrock of sustainable development; it empowers the disadvantaged to acquire knowledge and skills for self-sustaining, self-governing, and freedom in finding meaning in life and the society. We appeal for your contribution of any amount that will help send this shipment to Gaanda-Lala, Nigeria. Your generosity would be very much appreciated.
Contact: Sekenwa M. Briska, sekenwabriska@gmail.com or Catherine Martignacco martnaco@cpinternet.com
Make no mistake, there are hundreds and thousands of people [in Africa], young and old, who aspire to an education so that they can become their own agents of change and lead themselves out of the trap of poverty that has kept them down for much too long.

- His Excellency Welile Nhlapo, South African Ambassador to the U.S.