Donate to a Project
This map highlights the African countries in which a group is fundraising for a book shipment. Scroll over the country that you would like to donate to. Details will show in the pop-up screen or below the map when clicked. Or click on a specific project in the list on the right.
To donate to a specific project by clicking the "Donate Now" button on the project page.
If you prefer to make your donation by check, you can send a check to our St. Paul office. Please indicate the project you would like to donate to in the memo line.
Checks should be mailed to:
Books For Africa
253 E. 4th St.
Suite 200
St. Paul, MN 55101
South Sudan
WECA Books (Liza Mulla) - South Sudan
Project Goal: $20,000
Current Progress: $9,800 (49.00%)
Project Start: 07/01/2011
Donate Now
Because of the protracted war in Sudan that lasted for many decades, social infrastructures are virtually non-existent. One of the most devastated institutions is education. During the war schools were looted and destroyed. After the peace agreement signed in 2005, life is getting back to normal but there are not enough schools for children. Children across South Sudan gather anywhere to get what they all crave: "education". They sit on stones under the trees as makeshift classrooms; they face many difficulties including lack of learning materials and teaching aids. Western Equatoria Community Association (WECA) is working towards educational improvement for the children in Western Equatoria State; every donation for educational resources will make a difference in the life of children in South Sudan.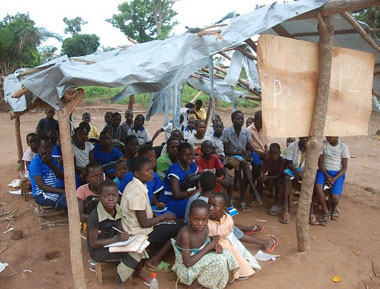 Western Equatoria Community Association (WECA) is a non-profit organization registered in 2008 in the State of Minnesota with membership all over the United States. The members originate from West Equatoria State (WES) of The Republic of South Sudan, which recently voted overwhelmingly, in an internationally supervised Referendum, for independence. South Sudan gained its independence on July 9th, 2011.
Contact: Liza Mulla, lizamulla56@gmail.com
Make no mistake, there are hundreds and thousands of people [in Africa], young and old, who aspire to an education so that they can become their own agents of change and lead themselves out of the trap of poverty that has kept them down for much too long.

- His Excellency Welile Nhlapo, South African Ambassador to the U.S.