Donate to a Project
This map highlights the African countries in which a group is fundraising for a book shipment. Scroll over the country that you would like to donate to. Details will show in the pop-up screen or below the map when clicked. Or click on a specific project in the list on the right.
To donate to a specific project by clicking the "Donate Now" button on the project page.
If you prefer to make your donation by check, you can send a check to our St. Paul office. Please indicate the project you would like to donate to in the memo line.
Checks should be mailed to:
Books For Africa
253 E. 4th St.
Suite 200
St. Paul, MN 55101
Kenya
Operation Gusii Books II (Paul Morande) - Kenya
Project Goal: $15,500
Current Progress: $2,786 (18.00%)
Project Start: 02/01/2013
Donate Now
Minnesota Kenyans International Development Agency (MKIDA)'s mission is to help improve education standards, health, and economic development of rural Kenya. MKIDA recognizes that education is the most powerful tool that can be employed to develop and improve the standards of Kenya's rural communities.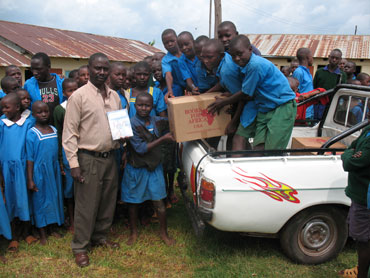 For many years, Gusii Kenya's rural schools have severely been underperforming in national examinations as compared to other schools in the region and Kenya as a whole. To improve education standards, book reading is a sure way to encourage good academic performance as well as provide entertainment to school students. Through the encouragement of reading, MKIDA hopes to improve the quality of education, student performance in national examinations, increase number of students going for higher education, and result in development of the rural economy.
To support and contribute to better Gusii rural schools' performance, MKIDA has embarked on "Operation Gusii Books," a project to secure and supply books to Gusii rural schools. MKIDA seeks the support of all well wishers and donors, in-kind donations of books and shipping funds, so that one book at a time, one dollar at time, we together can give a child a book to read.
Contact: Paul Morande, morandep@yahoo.com
Make no mistake, there are hundreds and thousands of people [in Africa], young and old, who aspire to an education so that they can become their own agents of change and lead themselves out of the trap of poverty that has kept them down for much too long.

- His Excellency Welile Nhlapo, South African Ambassador to the U.S.