Donate to a Project
This map highlights the African countries in which a group is fundraising for a book shipment. Scroll over the country that you would like to donate to. Details will show in the pop-up screen or below the map when clicked. Or click on a specific project in the list on the right.
To donate to a specific project by clicking the "Donate Now" button on the project page.
If you prefer to make your donation by check, you can send a check to our St. Paul office. Please indicate the project you would like to donate to in the memo line.
Checks should be mailed to:
Books For Africa
253 E. 4th St.
Suite 200
St. Paul, MN 55101
Malawi
Warming the Heart of Africa (Henry Bromelkamp) - Malawi
Project Goal: $26,000
Current Progress: $17,496 (67.00%)
Project Start: 02/01/2013
Project End: 05/01/2015
Donate Now
We have the opportunity to send books to Zomba, Malawi, however, we need your help! 
Bisa - We Are Happy To See You! from Maggie Meyer on Vimeo.
Malawi is a small land-locked country nestled between Zambia and Mozambique. Many years it is the poorest country in the world. The average income is only $330 per year, which is less than one dollar per day. With few resources and no easy transportation to the ocean, its development for centuries has rested on fishing from beautiful Lake Malawi. However the 13 million people of Malawi are another asset. For a hundred years, Malawi (once called Nyasaland) has been known for the gentle and generous spirit of its people, earning it the title "The Warm Heart of Africa."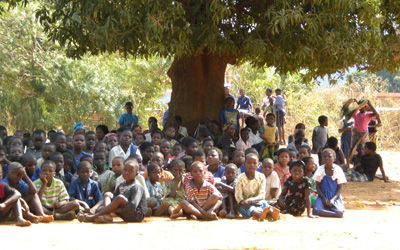 Schools are very simple buildings, if they have any structures at all. Often the children sit under a tree for class. There is usually no furniture, so the children sit on the dirt or concrete floor. There are no books, so everything they learn has to be something the teacher knows and remembers and wrote down on the chalkboard, if there is one. Imagine how the breadth and depth of learning can advance with books! Suddenly the teacher is not the limitation, but the guide to facts and stories and the knowledge of the world that lives in books.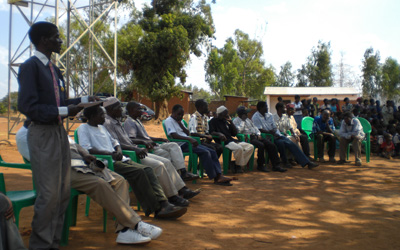 Malawi schools are administered in Teacher Development Councils (TDC's) of about 20-25 schools. Two TDCs near Zomba, Malawi, are partnering with the Malawi National Library to obtain two containers of 46,000 books for rural schools near Zomba, about 1,000 books per school, a huge treasure! If funding is sufficient, the National Library will conduct training in the villages, to help the communities learn how to operate a community library and maintain and repair books. Almost miraculously, partial funding has been found. Now it's our turn to find the rest. Please contribute to the futures of these children so they can be empowered through education to be full members of our world society. With warm hearts.
Contact:
Henry Bromelkamp 612-767-6716 henry@bromelkamp.com
Make no mistake, there are hundreds and thousands of people [in Africa], young and old, who aspire to an education so that they can become their own agents of change and lead themselves out of the trap of poverty that has kept them down for much too long.

- His Excellency Welile Nhlapo, South African Ambassador to the U.S.