Donate to a Project
This map highlights the African countries in which a group is fundraising for a book shipment. Scroll over the country that you would like to donate to. Details will show in the pop-up screen or below the map when clicked. Or click on a specific project in the list on the right.
To donate to a specific project by clicking the "Donate Now" button on the project page.
If you prefer to make your donation by check, you can send a check to our St. Paul office. Please indicate the project you would like to donate to in the memo line.
Checks should be mailed to:
Books For Africa
253 E. 4th St.
Suite 200
St. Paul, MN 55101
Tanzania
Books To Tanzania from GE Gives - GE Corporate Learning Courses - Tanzania
Project Goal: $15,000
Current Progress: $15,925.17 (106.00%)
Project Start: 12/01/2012
Project End: 01/01/2014
Donate Now
 Building on a partnership established with GE's 2012 EDC (through Corporate Learning) and Books For Africa (BFA), over 1,200 books were provided to establish a library at the Ng'iresi Primary School, outside of Arusha, TZ. This photo displays the success of this library project.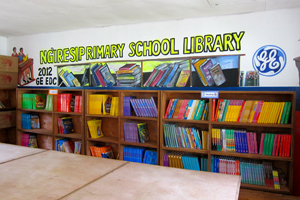 The current goal is to fund a whole container of 22,000 books to schools in Tanzania that are currently waiting for books. The container will be sorted and distributed with the expertise of Poverty Eradication Network in Dodoma, Tanzania, which has received numerous Books For Africa shipments. Anyone is eligible to donate to this project. Donating GE employees are encouraged to request matching funds through the GE Foundation once a donation is made to Books For Africa and a receipt is provided.
Make no mistake, there are hundreds and thousands of people [in Africa], young and old, who aspire to an education so that they can become their own agents of change and lead themselves out of the trap of poverty that has kept them down for much too long.

- His Excellency Welile Nhlapo, South African Ambassador to the U.S.