The Eric James Harms Memorial Library (Kim Harms) - Rwanda
Project Goal: $17,300
Current Progress: $4,950 (29.00%)
Donate Now
In 2009 the Harms family lost their beloved son Eric.  Eric, a freshman student at Columbia University in New York City was a kind, caring and compassionate student leader and a wonderful and loving brother and son.  Eric's parents and sisters were devastated by his loss.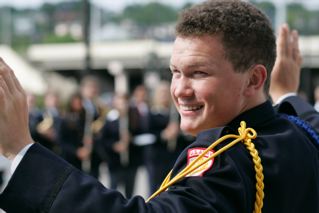 In 2011 Eric's mom, Kim, began to read books written by Rwandan Genocide survivors to help her understand how others were able to rebuild their lives after a devastating event.   These books helped her to rebuild her own life and find joy again.  Kim's dear friend Pam, a Books for Africa board member, suggested that they send a library to Rwanda in Eric's memory.  Since books written by Rwandans had helped her to heal, bringing books to Rwandans seemed like a perfect fit.
The Eric Harms Libraries Project has created 23 libraries in Rwanda in partnership with Books For Africa. The Harms family has gained so much comfort from this project that now works to provide memorial libraries in Rwanda for others who have lost loved ones.
If you would like to donate the shipping costs for a memorial library (Books for Africa has the books) for someone you loved, please contact Carole Patrikakos at Carole@booksforafrica.org.  We will work with you to find just the right school, church or community and dedicate the library for you.  You could also visit Rwanda yourself to dedicate the library, it is a beautiful country.
Project Contact: Kim Harms, kimh04302@gmail.com