Mbitini Village Projects (Tula Thompson) - Kenya
Project Goal: $15,000
Current Progress: $12,156 (81.00%)
Donate Now
My husband and I recently returned from Kenya where we have been supporting a village water project for the last 3 years (with generous matching funds from Rotary International). During our visit, we were pleased to see that the project is nearing completion (the well is operating and much of the distribution system is installed).  Creating a source of clean, accessible water addresses a major health and sanitation issue, reduces an enormous burden on the women of the village, who often must walk hours daily to gather water, and provides a potential irrigation opportunity for needed food sources.  The gratitude of the village for this modest project was quite moving.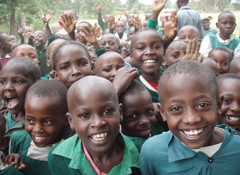 In our conversations with village elders, we realized that another of the community's greatest needs relates to literacy and education.  We met with the principals of the primary school, which serves 260 children, and of the Barazani Girls' High School, which boards and teaches 470 students.  At both schools pupils must share a limited selection of textbooks at a ratio of 10 students or more per book.
Right now neither school, nor the community itself, has a library. Both principals, dedicated to the needs of their students, believe that increasing access to a wide array of new and gently used textbooks would have a profound impact on students' abilities to learn.  Faster learners could advance independently and slower achievers could improve their reading skills with books on topics they might enjoy.  A shared library would be an important resource for the entire community.
To monitor and offer advice on the water project, a village council was created, made up of both men and women from the community, which ultimately will assume control over the project.  Obviously, sustainability of this and other projects after completion is a key objective.  The council has kept the community informed and participating throughout a slow process (for example: the majority of the piping was laid in trenches dug by the villagers). The same council will participate in choosing a suitable location for, and in constructing a facility (or facilities) to house, a library.  Recently the village has received two donated brick making machines that could be used for this and other new construction.
Mbitini is in a remote mountainous area of Kenya, seemingly outside the reach of most other charitable organizations. The village of approximately 5,000 is a four hour drive south of Nairobi and is about a one hour drive from the closest highway and small town, Sultan Hamud.  Access is limited in the rainy season.  Subsistence agriculture is the primary activity.
The most important asset, as we look to help the village try to meet some of its more pressing needs, is the presence of our trusted friend, James Makau, the founder of the Kinengo Initiative. Makau, who operates a successful tour company in Kenya, was born and raised in the village.  He returns to see his mother and family regularly and is dedicated to improving the lives of villagers through a whole range of projects. We have known Makau for over seven years and his determination and vision were what caused us to participate in the water project.  With eyes and ears on the ground, Makau will relay photos and progress reports on the work being done to make a library a reality. All that is needed is additional funding to provide the books for this worthy village and its students.
Contact information:
Michel and Tula Thompson
Oro Valley, AZ   85737
thompsontula@gmail.com
mthompson@lathropgage.com
James Makau Nzioka
Kinengo Initiative
makaun@iconnect.co.ke
makau@wildernesszones.com
http://www.wildernesszones.com/giving-back/kinengo-kenya-2