Debre Zeit (Samuel Fereja) - Ethiopia
Project Goal: $20,000
Current Progress: $16,952 (85.00%)
Donate Now
We are planning to send a 40-Foot Container 22,000 BOOKS to Debre Zeit Area. We get the books free from US NGO, Books For Africa.  We only need funding for shipping, $15,300. We have a dollar to dollar funding match from another NGO, Out of Print that expires by SEPTEMBER 30, 2020.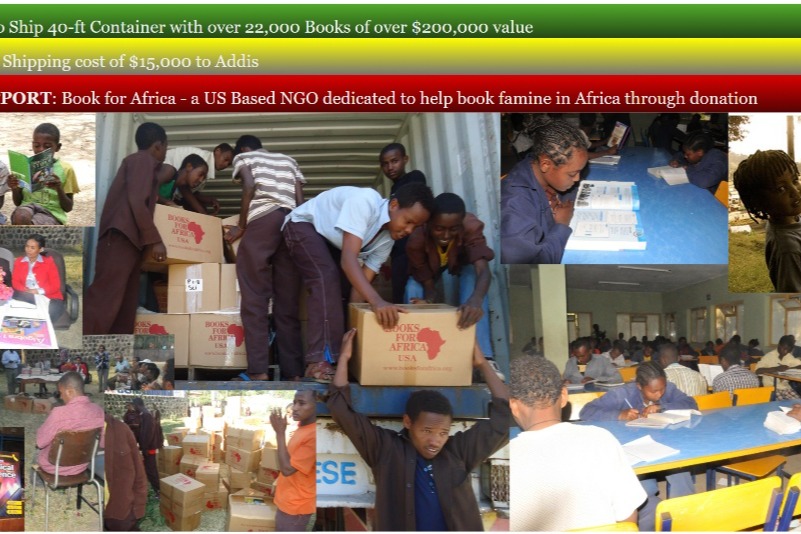 In July 2012, we managed to deliver 22,000 books and 5 computers to Bishoftu City Administration's Education office. The package was distributed to disadvantaged schools throughout the city. That was made possible with the kind and generous gift from both inside and outside of the Ethiopian community as well as funding from Out of Print.
While the fund covered the shipping cost, Books For Africa, a US NGO, provided the books and shipped them in a 40-foot container. Books For Africa collects, sorts, and ships books to major African cities, including Addis Abeba for $15,300.
Now, Out of Print has an offer through the month of September matches a dollar for a dollar similar effort. We are going to utilize this offer and, with your help, send two containers, with approximately 22,000 books each. Also, we plan to include refurbished computers and new encyclopedia sets at additional cost. The regular shipping would be $30k but with the offer from Out of Print, we only need to raise half. Therefore, we ask for your generous contribution to meet our goal before the offer expires.
We believe literacy is an absolute necessity to eradicate poverty in Ethiopia. The education system holds a key role but can only do so much without adequate resources. If we join hands and provide the resources, we can help create a new generation that lifts Ethiopia out of poverty. The youth literacy rate in Ethiopia is among the worst in the world according to UNESCO. This only means there is a lot of work to be done. Big changes start with small steps and we invite you to take part.
Contact: Samuel Fereja, sfereja@yahoo.com