Buea Book Project (Molly Rolfsmeier) - Cameroon
Project Goal: $17,500
Current Progress: $9,347 (53.00%)
Donate Now
The Buea Book Project is excited to work with Catholic University Institute of Buea (CUIB), a new university in Buea, Cameroon, to build their first library. CUIB is an exciting place to study, combining academic and entrepreneurial business education while keeping a focus on ethics. They are open to students of any faith and are dedicated to future of Cameroon.
This container shipment will also establish the William Wallace Memorial Library.  Bill served as a teacher in the Peace Corps in Cameroon.  The books you sponsor will allow children in the Buea community to read for pleasure and study for their classes.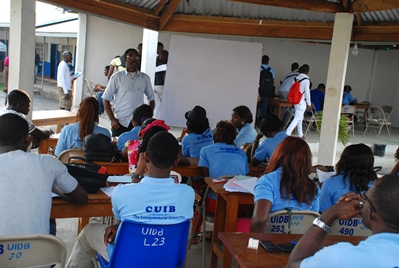 Unfortunately, the students have no textbooks to study from, and poor, intermittent internet connections leave the students with only the painfully slow option of writing down what the professors read to the students, and then they study from these notes. This leaves no time in the classroom for professors to delve deeper into subjects. It also leaves little time available for experimentation and research on the part of students, which can be the most exciting part of a young student's education! Creating a library gives students a place to research on their own, investigating what interests them in their field of study. With this library, we hope to gather enough similar textbooks so students have textbooks to read outside of the classroom lecture time. This library will also include 10 desktop computers and specialized books for agriculture in Africa.
Contact: Molly Rolfsmeier; bueabookproject@gmail.com