The NFL's Atlanta Falcons Land in the BFA Warehouse!
Date Posted:
Thursday, October 18 2012 1:11 PM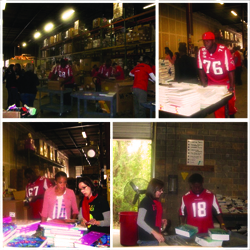 BFA was selected as one of twelve lucky organizations to have members of the Atlanta Falcons join us as volunteers as a part of their "Hometown Huddle" community service initiative! Sporting their jerseys and enthusiastic attitudes, fourteen Falcons rookies came into the BFA Atlanta warehouse to sort and pack books.
Other BFA volunteers were excited to work alongside the NFL players. The rookies brought with them red "Rise Up Atlanta" t-shirts and wristbands for fans. With a big smile, regular BFA volunteer and huge Falcons fan, Sheila Pollock, said, "I can't believe it! I showed up to sort books as usual and here are my Falcons!"