Success Stories & Recent News
What happens to a container of Books For Africa books once it arrives in Africa? What kind of impact will your donation have on the lives of children in Africa?
Here are some photos and stories about BFA shipments as well as recent news about our organization.
Contributing to the "Knowledge Economy" in Africa at Spring Fundraisers with Ambassador Rasool of South Africa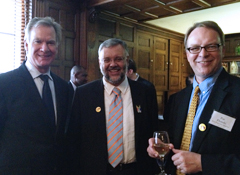 "We are in the era of fast food, and we want to see results. But here we have a room full of people, who day in and day out, one book at a time, are saving the children of Africa from a destiny of illiteracy, from a destiny of ignorance, from a destiny of maleducation, from a destiny not only of unemployment but of un-employability." His Excellency Ebrahim Rasool
Books For Africa was honored to host His Excellency Ebrahim Rasool, Ambassador of South Africa to the United States, as our keynote speaker for our annual fundraising events on May 15, 2013 in St. Paul, Minnesota, USA.
Representing the largest economy in Africa, His Excellency Rasool spoke of the importance of education and literacy in the rise of Africa. "We cannot have Africans missing the knowledge economy," said the Ambassador, "For you it may be a maths book that you have forgotten about… but for Africa it is the difference between back to the future or reaching the potential of the African continent."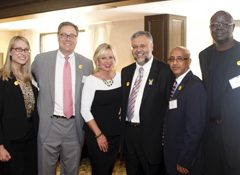 Books For Africa supporters raised more than $75,000 to ship books to schools and libraries across the African continent. As Ambassador Rasool noted, "Africa's future is being built not only in Africa. I can see today that it is being constructed actively in Minneapolis/St. Paul and I am deeply honored and humbled to be here and to be part of a recipient community of your generosity."
The Stout Books For Africa Walk: Great Success!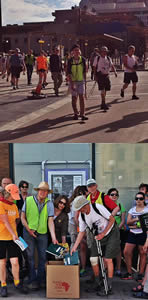 For a man who made a living working with cars, Tom Warth, the founder of Books For Africa, sure does love to take walks.
From April 26th-28th, 2013, Tom Warth and a contingency of BFA supporters took a hike from the University of Wisconsin Stout in Menomonie, Wisconsin, to the Books For Africa office in St Paul, Minnesota, a total distance of 68 miles. Each walker carried a college level book donated by the university on the first part of its journey to Africa.
At 77, Warth may have been pushing it a bit, but with a determined attitude he and his team walked to raise awareness for BFA's cause to end the book famine in Africa.
This walk was more than just a fun jaunt in the finally-arrived spring here in Minnesota. Walkers asked friends and family to help raise the funds to bring a container of books to a former UW-Stout student who has now returned to his home in Nigeria. These books will be distributed to schools and libraries in his home district to give other Nigerian students the opportunity to read, learn, and grow.
At the end of the walk, all walkers deposited their books in collection bins below the iconic Books For Africa sign outside of the St. Paul office and celebrated a job well done at a favorite local establishment just down the street, Golden's Deli.
Though the walk is over, you can still contribute to the Nigeria project that walkers raised funds for on Razoo or by sending a cash or check donation to Books For Africa with a note in the memo line referring to the Stout Walk.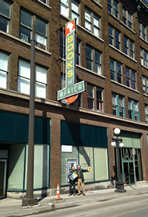 Tom's walk made a big splash! View some of the media outlets that picked up the story:
http://www.twincities.com/localnews/ci_23123596/48-mile-trek-raises-awareness-pledges-books-africa

http://www.wqow.com/category/136730/video?clipId=8816691&flvUri&partnerclipid&topVideoCatNo=0&c&autoStart=true&activePane=info&LaunchPageAdTag=homepage&clipFormat=flv
http://www.presspubs.com/messenger/news/article_9de3e48c-b1b3-11e2-a787-0019bb2963f4.html
A Big Day for Chain of Hope Schools in Uganda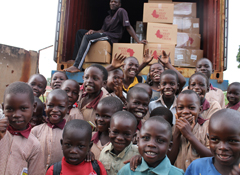 "The Books have arrived! THANK YOU! And as expected, the kids are super excited-they had to get a day off from study because they just couldn't concentrate in class. The big truck (which the children thought was a bus!) couldn't pass through the school gate so we had to ferry the books with another smaller vehicle to one of the classrooms as we await distribution to all beneficiaries."
- Agnes Igoye, container captain for Chain of Hope Uganda project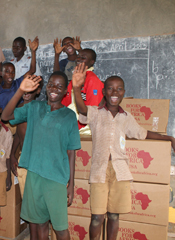 Chain of Hope, a non-profit serving the people of war-torn Northern Uganda, brought 22,000 BFA books to students in the region in early spring of 2013.
Among many other necessary social and educational programs, Chain of Hope establishes schools and shelters for orphans and vulnerable children. Currently, they serve over 175 orphaned children, some of whom were abducted and others born of rape used as a weapon of war by the Lord's Resistance Army. These schools and libraries will build a foundation for opportunity for this at risk youth population for years to come.
"I am so humbled by the impact the books are already having" Agnes writes, "The children are beaming with hope for a brighter future."
BFA books are Burundi bound!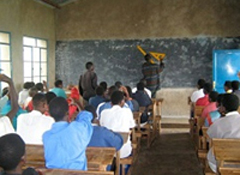 For the first time in our history, Books For Africa has shipped books to Burundi!
That means that we have now shipped 28 million books to schools and libraries in 49 different African countries.
Burundi is one of the poorest countries in the world. With 80% of the population living in poverty, very few people are able to attend school. Only 50% of Burundian children attend elementary school and only 8% of young adults attend secondary school.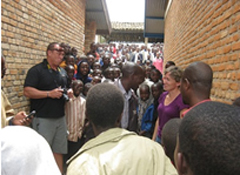 On April 3rd, a full container of 22,000 books was shipped to schools that need them in Burundi thanks to Burundi Friends International (BUFRI) and Books For Africa. Especially now that Burundi is a part of the East African Community, where English is a common language of business and politics, students will greatly benefit from the opportunity to learn in their new libraries of English language books.
BUFRI is a San Diego based non-profit charged with the goal of fighting poverty in Burundi through education and public health initiatives. Learn more about their work at www.bufri.org.

Keeping Up with BFA Partners Around the U.S.
BFA Executive Director, Patrick Plonski, has been keeping busy visiting partners across the United States.
First, Plonski travelled to Washington D.C. just in time for a winter storm warning. The snow on the ground did not stop Plonski from visiting with members of the Minnesota Congressional Delegation to discuss how to support international literacy efforts from the United States.

Next, Plonski and BFA Board Secretary, Tom Gitaa, met with His Excellency Elkanah Odembo, Ambassador of the Republic of Kenya to the U.S. Ambassador Odembo, a long time supporter of efforts to improve literacy across the African continent, is the chair of the 2013 BFA Summit Society. Plonski stopped by to talk about continued work on improving education in Kenya, as well as to congratulate the Ambassador on peaceful elections in March 2013. They were also able to visit the Ambassador of Malawi to the U.S. to invite the Malawian President, Joyce Banda, to Minnesota to join us for BFA's 25th Anniversary events in September.

Next Plonski and BFA Founder, Tom Warth, visited BFA partner Better World Books for their 10-year anniversary celebration. As long time partners in literacy, Better World Books has contributed more than $2.5 million in aid to Books For Africa. That's a lot of books to schools and libraries that need them!
William Kamkwamba, a perfect example of the power of books, served as the keynote speaker at the festivities. William just released his book The Boy Who Harnessed the Wind, the story of how a book sparked an idea, and how that idea revolutionized a life and community.
Books For Africa helps alleviate poverty of the imagination where imagination is most needed—where war and hunger, corruption and injustice seek to crush inspiration.

— Alexandra Fuller, author of the bestselling book Don't Let's Go to the Dogs Tonight