Success Stories & Recent News
What happens to a container of Books For Africa books once it arrives in Africa? What kind of impact will your donation have on the lives of children in Africa?
Here are some photos and stories about BFA shipments as well as recent news about our organization.
An evening with Ambassador Rasool of South Africa
Books For Africa supporters enjoyed the 2014 BFA Summit Society reception in a warm and inviting locale: His Excellency, Ebrahim Rasool, Ambassador of South Africa to the United States, hosted the event at his personal residence in Washington DC on April 30, 2014. Supporters from around the country came to DC for the annual event. Thank you to Ambassador for your hospitality!
Thank you to Ambassador Mulamula of Tanzania for celebrating with Books For Africa!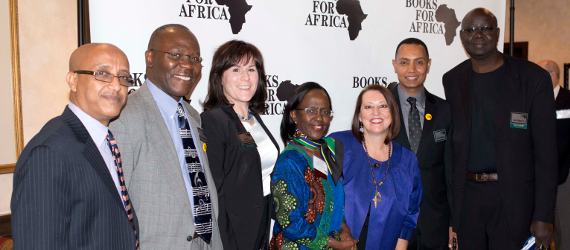 "You cannot say 'No' to Books For Africa," says Her Excellency Liberata Mulamula, Ambassador of the Republic of Tanzania to the United States. The Ambassador was our guest of honor at the Books For Africa Spring Fundraising Events on May 7, 2014, and her enthusiasm for ending the African book famine inspired guests all day!
An intimate crowd of Books For Africa donors and event sponsors gathered at the University Club of St. Paul (MN) to share a meal at the BFA Kilimanjaro Society Breakfast. After addresses from Ambassador Mulamula and Kjell Bergh, Honorary Consulate of Tanzania in Minnesota, BFA Executive Director Patrick Plonski presented the Kilimanjaro Awards to several of our exceptional supporters.
Tom Pfeifer--Global Head, Sales and Customer Experience Legal--accepted the 2014 Kilimanjaro Society Award of Merit on behalf of Thomson Reuters. Thomson Reuters supplies in kind legal resource libraries to African law faculties through the BFA Jack Mason Law & Democracy Initiative. To date, 70 law and human rights libraries have been sent to law schools, bar associations, court systems and women's legal organizations in 20 African countries. Thank you to Thomson Reuters for your efforts in advancing the rule of law!
We could not achieve all that we do without a lot of help; this year's ceremony marks the inaugural presentation of the Books For Africa Kilimanjaro Service Awards. Eb Flomo--director of Helping Educate Liberia's Little Ones (HELLO Liberia)-- was honored with the Kilimanjaro Society Volunteer Award, while Community Involvement Programs, represented at the reception by Andraya Reichel and Misha Eletsky, received the Kilimanjaro Society Warehouse Volunteer Award.
Directly following the breakfast, Books For Africa hosted our Annual Fundraising Luncheon: Reading Rocks! We were joined by more than 300 supporters at the Town and Country Club of St. Paul for the event. Speakers included St. Paul Mayor Chris Coleman, who dashed to our event following a ceremony celebrating the return of Amtrack passenger trains to the Union Depot (right across the street from the BFA offices) after an absence of over forty years.
Kim Harms, BFA Container Captain, and Father Remy Bizimana, BFA Container Recipient & Rwanda Partner, recounted the powerful experience of building the Eric James Harms Memorial Libraries in Rwanda and supplying them with books. As Kim said, "Three years, 13 libraries and 88,000 books later I realize that this idea for a library had turned into a wonderful retirement vocation."
Ambassador Liberata Mulamula then addressed the crowd, stressing the importance of books and reading in building a bright future for her homeland of Tanzania. Her Excellency identified three enemies of prosperity: poverty, disease, and ignorance, while asserting that all of these problems can be solved through education. She detailed the efforts being made by the Tanzanian government to improve education and literacy for Tanzanian learners of all ages. Education, especially primary education, has become a priority for the government. Her Excellency sees long term benefits in this focus on early education, advising the gathered audience that "if you find education to be expensive, try ignorance."
The big day wrapped up with the East Africa Business Forum, hosted in cooperation with the Minnesota Trade Office, at Thomson Reuters. Representatives from local multinational corporations such as Land O'Lakes and General Mills, as well as the Uganda North American Association Convention in Minnesota and Books For Africa, discussed how business and economies are changing in East Africa and how their businesses are adapting and growing in response. The conference was followed by a reception featuring wine provided by Amara Wines.
Overall, the events were a great success. Supporters from far and wide praised the organization and helped us raise more than $100,000 to ship more books to schools and libraries in Africa.
Thank you to all who were able to join us!
Books For Africa Founder Walks Fifty Miles to Send Books to Somalia

Tom Warth has done it again.
Each year, Books For Africa founder Tom Warth stages a walk to raise awareness and funds for Books For Africa. This year, Tom and a team of dedicated Books For Africa supporters trekked 50 miles from the oldest public library in the state of Minnesota (Taylors Fall, MN, USA) to the steps of the capitol building in St. Paul.
This year, Warth and the walkers raised more than $13,000 to send a container of books to Central Somalia. Their route took them through some of the beautiful trails around the state including the William O'Brien State Park and the Gateway Trail. Even through pouring rain, nothing could stop this group of walkers. At least 65 people joined the effort throughout the weekend!
A warm welcome awaited the walkers on the steps of the Minnesota State Capitol Building on Sunday, April 27 at the Books For Somalia Celebration. Attendees heard from Congressperson Keith Ellison; Mahamed Cali, executive director of the Somali American Community; Brett Feldman, executive director of the Parks and Trails Council of Minnesota, and Tom Warth.
The ceremony ended with an uplifting speech from Cali, who originally hails from Somalia. Cali spoke of the importance of education in creating a more peaceful future for Somalia. "We must send books, not bullets!" he proclaims. With the funds raised from this walk, Books For Africa will do just that.
See the local media buzz:
St. Paul Pioneer Press (St. Paul, MN, USA - April 24, 2014)
Star Tribune (Minneapolis, MN, USA - April 25, 2014)
All Things Considered – Minnesota Public Radio (St. Paul, MN, USA - April 24, 2014)
Books For Africa celebrates UNESCO's World Book Day!
Every day is all about books at Books For Africa. So for UNESCO's World Book Day (April 23, 2014), we are sending 33,000 books to Zimbabwe and Nigeria!
Yup. 33,000 books left our warehouse bright and early this morning. Soon, they will be in the hands of students in Zimbabwe and Nigeria. (Watch the video of our Warehouse Staff in Atlanta loading up the trucks!)
UNESCO (the United Nations Educational, Scientific and Cultural Organization), based in Paris, created World Book Day in 1995 to pay tribute to authors and to encourage everyone, especially young people, to discover the pleasure and value of reading.
"The power of books to advance individual fulfilment and to create social change is unequalled," Irina Bokova, UNESCO's Director-General, said in a statement. "Intimate and yet deeply social, books provide far-reaching forms of dialogue between individuals, within communities and across time."
"We are grateful for the opportunity to join with UNESCO to promote World Book Day," Plonski said. "The impact of books on the education of children in Africa is incalculable."
Plonski said 11,000 books from the St. Paul warehouse will be sent to Nigeria and 22,000 books from Atlanta will be sent to Zimbabwe as part of World Book Day.
Celebrate World Book Day by helping us end the African book famine.
1. Donate.
2. Donate Books.
3. Volunteer.
Educating Africa: Sir Emeka Offor Steps up to the Plate
A new business model is emerging in Africa and it has the potential to benefit millions of underserved people around the far reaches of the continent. The model embraces corporate social responsibility and involves business leaders giving back to the places where they built and acquired their wealth. These private benefactors are now also collaborating with NGOs and governments to advance core development needs and goals.
No better example exists than Sir Emeka Offor, a leading Nigerian businessman, who since 2011 has donated $950,000 to Books For Africa (BFA) to ship 1.7 million books and computers valued at over $18 million to children and students in 19 African countries, including his own home country Nigeria.
What is unique about Sir Emeka's generosity beyond the size of the donation is that his support will help people in so many different countries: large and small; Muslim and Christian; geographically diverse, land-locked and coastal, and poor countries thousands of miles from his own homeland.
Time and again, studies show that literacy and education are linked to health, wealth, and prosperity. Literacy is the foundation for a good education. However, there are many developing places in the world that do not have adequate access to reading materials to foster a culture of learning, including many communities in Africa. Over the past 25 years, Books For Africa (BFA) has supplied more than 30 million books to 49 African countries. BFA could not have done so without the tremendous support from partners like Sir Emeka Offor.
Sir Emeka Offor impresses American visitors with his desire to help African compatriots to help themselves through education. His goal, he says, is to help every man, woman and child in Africa learn to read and he approaches this goal with enthusiasm, tenacity and uncommon generosity.
Sir Emeka Offor is the largest donor in the history of Books For Africa, and the largest private sector donor in the history of the program. Sir Emeka's foundation now serves as the prototype and catalyst for other private sector companies and state governments in Nigeria, with books, computers and school supplies being provided to all areas of Nigeria with no regard to religion or ethnicity.
Significantly, Sir Emeka Offor has also paid for the logistical costs of book distributions in Nigeria, which are valued at an additional several hundreds of thousands of dollars. By establishing a warehousing hub in Southern Nigeria, Sir Emeka Offor has built a distribution machine to process huge numbers of books. More than 50 people have been hired to sort, catalog, box and distribute the donated books. This distribution center represents a best practice for how to efficiently and properly distribute large quantities of books in a single country, and has become the prototype for other donation programs in Africa.
It is not uncommon for African philanthropists to support education and literacy projects in their own countries. It is unprecedented, however, for an African business leader like Sir Emeka Offor to financially support projects of this size and scope across Africa in addition to a major book project in his home country. Projects of this scale are more often conceived and executed by government entities such as USAID, DFID, the EU, and various United Nations offices, but never by a single individual.
Sir Emeka Offor's generosity has benefitted the following 19 African countries through book and computer donations: Nigeria, Botswana, Chad, Egypt, Ethiopia, The Gambia, Kenya, Liberia, Malawi, Namibia, Niger, Rwanda, Senegal, Sierra Leone, Somalia, South Africa, South Sudan, Tanzania, and Uganda.
Sir Emeka's work is certain to inspire other African business leaders to adopt his model of philanthropy. He has hit a home run heard around the continent.
Books For Africa helps alleviate poverty of the imagination where imagination is most needed—where war and hunger, corruption and injustice seek to crush inspiration.

— Alexandra Fuller, author of the bestselling book Don't Let's Go to the Dogs Tonight