Success Stories & Recent News
What happens to a container of Books For Africa books once it arrives in Africa? What kind of impact will your donation have on the lives of children in Africa?
Here are some photos and stories about BFA shipments as well as recent news about our organization. 
May 7 Events to feature Her Excellency Olivier Wonekha, Ugandan Ambassador to the U.S.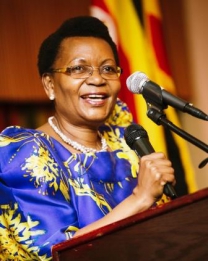 You are invited to join us for the 2015 Books For Africa annual Fundraising Luncheon.  We are honored to announce that this year's event will feature Her Excellency Oliver Wonekha, Ugandan Ambassador to the United States, as our keynote speaker!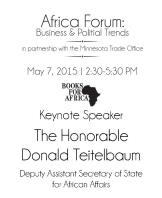 We are excited to announce our Africa Forum event, being held in partnership with the Minnesota Trade Office. We are excited to announce that the event will feature keynote speaker The Honorable Donald Teitelbaum, Deputy Assistant Secretary of State for African Affairs. We hope you can join us!
Tanzanian Embassy hosts annual Books For Africa Summit Society reception

Books For Africa held its annual Summit Society Reception at the Tanzanian Embassy in Washington, D.C. Hosted by Her Excellency Liberata Mulamula, Tanzanian Ambassador to the U.S. and this year's Summit Society Chair.  The event also welcomed Her Excellency Oliver Wonekha, Ugandan Ambassador to the U.S., and other dignitaries.
 BFA is grateful to Her Excellency Mulamula and the Tanzanian Embassy for hosting this event, and we are excited to build important relationships that will allow us to continue our fight to end the African book famine.  A good time was had by all, take a look at some photos from the festivities:
Books For Africa 2015 Summit Society Reception


Sir Emeka Offor Foundation's partnership with Books For Africa having an impact in Tanzania, across the African continent

The Sir Emeka Offor Foundation has partnered with Books For Africa to deliver 20,000 books to schools in Tanzania! This donation, marked by a ceremony held March 13, 2015, will be distributed to primary, secondary, and university libraries in the Bagamoyo region of Tanzania.

This shipment has seen significant media coverage from major outlets such as AllAfrica and The Guardian (Nigeria). This effort also drew praise from the Nigerian High Commissioner to Tanzania, Ambassador Ishaya Samaila Majanbu, who was present at the ceremony. In a country with an adult literacy rate of 68% (UNICEF) and a glaring lack of functional libraries, these much-needed materials will provide educational opportunities to Tanzanian students for generations to come.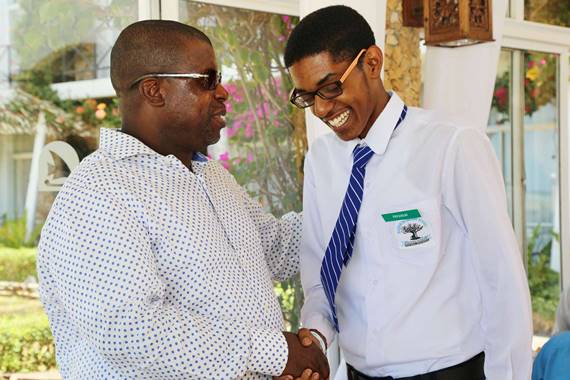 This project represents the ongoing efforts of the SEOF to positively impact the lives of children across the African continent.  As Sir Emeka himself states, "Education opens the door for Africa's development and we are proud to support this cause. Without education, people cannot create their own solution. My foundation believes in that and that is why we are working hard to ensure that every child within our reach in Africa has the opportunity to read and write." 
A May 2013 grant from the SEOF for $600,000 (the largest single donation in BFA's history) has facilitated the shipment of over 1,000,000 books and computers valued at over $13,000,000 to 19 African countries. This project, titled the Revitalizing African Education Initiative, saw its final container shipped this March, and has created educational infrastructure in communities such as Bagamoyo across the African continent. We are pleased to present our report on the impact of this Initiative and to share the stories of those whose lives have been affected by the generosity of the Sir Emeka Offor Foundation.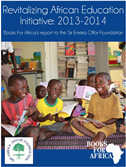 Click Here to view a copy of the Revitalizing African Education Initiative report
Over 27,000 BFA French language Books to be distributed across Guinea

In October we announced that a container of French books were en route from France to our partners in Guinea on a shipment made possible by the generosity of the Nichols Foundation, fundraising by PCV Caleb Wilson, and support from Hope of Guinea.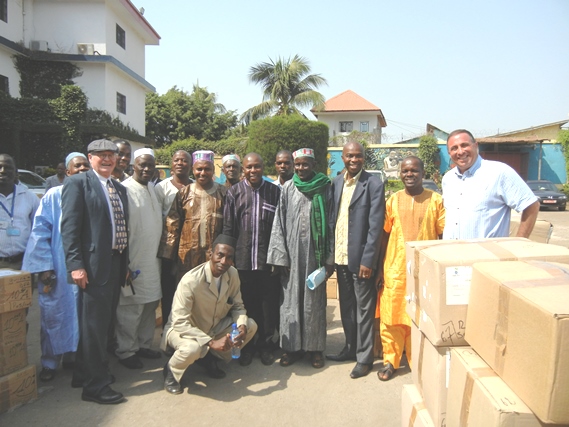 We are pleased to report that Peace Corps Guinea has received this container of over 27,000 new French language books, which will be distributed for use in local libraries across the country. This project, initiated prior to the Ebola outbreak in Western Africa, persevered through the challenges brought on by the crisis, even as Peace Corps volunteers were evacuated from the region. Local teachers and Peace Corps staff worked diligently to process the 557 boxes of materials, readying them for distribution to 34 villages, where they will allow students, teachers and communities to continue teaching and learning despite the Ebola outbreak.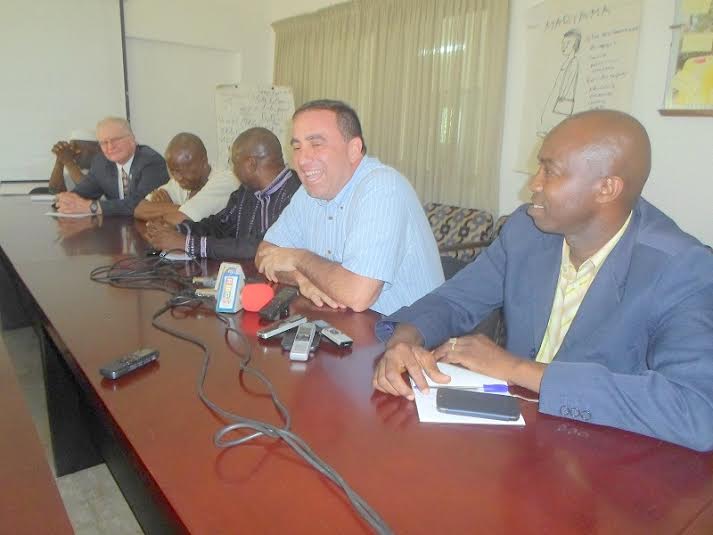 On February 19, US Ambassador Alex Laskaris and Ministry of Education officials visited the PC office to learn about this effort. Mr. Soriba Sylla, Secretary General of the Ministry of Education said, "PCVs help us in many ways, they go to work in places Guineans don't want to go and set an example, they pass knowledge on to teachers." He added, "We were very affected by their departure, want them back as soon as possible and want even more!" Others attending included community representatives from Kouroussa, Porekiré, Kokoulo, Dabis, and Tounkourouma (among those who will be getting the books), as well as representatives of Hope of Guinea and the Teacher Training Institution (ISSEG).
Course Hero Surpasses 200,000 Books Donated to Gambian Schools

Our friends at Course Hero have reached an impressive milestone, officially surpassing 200,000 books donated to BFA partner schools in The Gambia!
These books, donated via Course Hero's Knowledge Drive, are having a direct impact on the lives of students there, giving the next generation of Gambian parents, teachers, and leaders the tools they need to excel in school.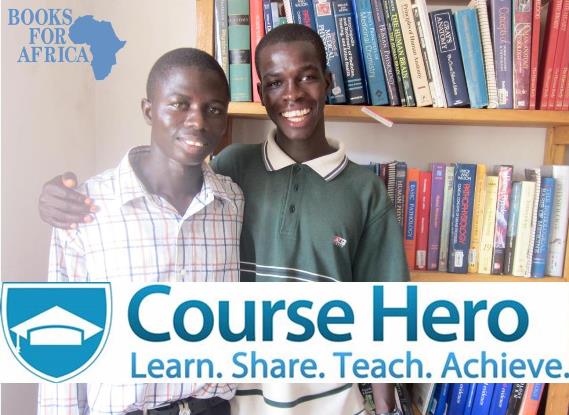 Books For Africa Executive Director Patrick Plonski conveys the impact that Course Hero has had on BFA's ongoing efforts to end the African book famine, noting that "Course Hero has become one of our most consistent and substantial donors over the past several years, and is the top donor for our 1 Million Books for Gambia project. We truly appreciate their very generous support resulting in the shipment of over 200,000 books to Africa since the beginning of our partnership in 2010."
The dedication of Course Hero employees, interns and student managers to creating a positive impact on global education has driven this success. 
Course Hero's Rachel Tobac writes "I always dreamed of a role that would allow me to work with people who value global citizenship—not just the idea of it, but the scrappiness, resiliency, and compassion that global citizenship requires. Those traits are exactly how I would describe the interns and colleagues who I have the pleasure of working with on a daily basis. That's why it is such an honor to announce that together we have officially surpassed 200,000 book donations to our Books for Africa partner schools in The Gambia! Hitting this milestone directly reflects what we care about most here at Course Hero: Impacting education on a global scale—one document and one book at a time." 
This enthusiasm has already made a major impact on the educational landscape in The Gambia; 200,000 books shipped is an amazing accomplishment, and as this partnership continues the sky is the limit!
Books For Africa helps alleviate poverty of the imagination where imagination is most needed—where war and hunger, corruption and injustice seek to crush inspiration.

— Alexandra Fuller, author of the bestselling book Don't Let's Go to the Dogs Tonight