Success Stories & Recent News
What happens to a container of Books For Africa books once it arrives in Africa? What kind of impact will your donation have on the lives of children in Africa?
Here are some photos and stories about BFA shipments as well as recent news about our organization.
Educating Africa: Sir Emeka Offor Steps up to the Plate
A new business model is emerging in Africa and it has the potential to benefit millions of underserved people around the far reaches of the continent. The model embraces corporate social responsibility and involves business leaders giving back to the places where they built and acquired their wealth. These private benefactors are now also collaborating with NGOs and governments to advance core development needs and goals.
No better example exists than Sir Emeka Offor, a leading Nigerian businessman, who since 2011 has donated $950,000 to Books For Africa (BFA) to ship 1.7 million books and computers valued at over $18 million to children and students in 19 African countries, including his own home country Nigeria.
What is unique about Sir Emeka's generosity beyond the size of the donation is that his support will help people in so many different countries: large and small; Muslim and Christian; geographically diverse, land-locked and coastal, and poor countries thousands of miles from his own homeland.
Time and again, studies show that literacy and education are linked to health, wealth, and prosperity. Literacy is the foundation for a good education. However, there are many developing places in the world that do not have adequate access to reading materials to foster a culture of learning, including many communities in Africa. Over the past 25 years, Books For Africa (BFA) has supplied more than 30 million books to 49 African countries. BFA could not have done so without the tremendous support from partners like Sir Emeka Offor.
Sir Emeka Offor impresses American visitors with his desire to help African compatriots to help themselves through education. His goal, he says, is to help every man, woman and child in Africa learn to read and he approaches this goal with enthusiasm, tenacity and uncommon generosity.
Sir Emeka Offor is the largest donor in the history of Books For Africa, and the largest private sector donor in the history of the program. Sir Emeka's foundation now serves as the prototype and catalyst for other private sector companies and state governments in Nigeria, with books, computers and school supplies being provided to all areas of Nigeria with no regard to religion or ethnicity.
Significantly, Sir Emeka Offor has also paid for the logistical costs of book distributions in Nigeria, which are valued at an additional several hundreds of thousands of dollars. By establishing a warehousing hub in Southern Nigeria, Sir Emeka Offor has built a distribution machine to process huge numbers of books. More than 50 people have been hired to sort, catalog, box and distribute the donated books. This distribution center represents a best practice for how to efficiently and properly distribute large quantities of books in a single country, and has become the prototype for other donation programs in Africa.
It is not uncommon for African philanthropists to support education and literacy projects in their own countries. It is unprecedented, however, for an African business leader like Sir Emeka Offor to financially support projects of this size and scope across Africa in addition to a major book project in his home country. Projects of this scale are more often conceived and executed by government entities such as USAID, DFID, the EU, and various United Nations offices, but never by a single individual.
Sir Emeka Offor's generosity has benefitted the following 19 African countries through book and computer donations: Nigeria, Botswana, Chad, Egypt, Ethiopia, The Gambia, Kenya, Liberia, Malawi, Namibia, Niger, Rwanda, Senegal, Sierra Leone, Somalia, South Africa, South Sudan, Tanzania, and Uganda.
Sir Emeka's work is certain to inspire other African business leaders to adopt his model of philanthropy. He has hit a home run heard around the continent.
Books arrive in Banjul thanks to the Sir Emeka Offor Foundation

Thanks to the Sir Emeka Offor Foundation, Books For Africa has been filling a lot of empty library shelves across Africa. Last year, the Foundation started an incredible project to ship one million books to Africa by the end of 2014. These books will go to Books For Africa partners in 25 African countries.
One such partner is the Better Communities Association in Banjul, The Gambia. BCA received a container of 22,000 books thanks to the Sir Emeka Offor Foundation in March 2014. A ceremo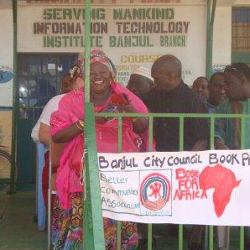 ny was held to celebrate the book delivery. These books will be distributed to 16 different schools in the greater Banjul area, including the University of Gambia.
Joy Buchanan, president of the BCA, has worked with Books For Africa in the past on similar book distribution projects. She knows that books are an important part of learning and growing as a student. "If you have a book you are not alone," says Buchanan, "If it is a text book you will be sitting and listening to the author as he imparts the knowledge and experience that he has gained over many years and written down to help you."
Thanks to the Sir Emeka Offor Foundation, students across Africa will have the opportunity to read, learn, and grow just like students will in Banjul.
Read more about the ceremony and this distribution of books:
$250,000 worth of books donated to schools
Malamin L.M. Conteh, Wednesday, March 12, 2014, The Point
Books For Africa distribute books worth US$440, 000 to schools
Jainaba D. Jatta, Thursday, March 13, 2014, The Observer
Books For Africa Donates Books to Schools
Saikou Suwareh Jabai, Wednesday, March 12, 2014, FOROYAA Newspaper
*Photos provided courtesy of Joy Buchanan, Better Communities Association, The Gambia
Ambassador Liberata Mulamula of Tanzania to keynote BFA luncheon, May 7 in St. Paul

Please join Books For Africa for our annual spring Fundraising Luncheon: Reading Rocks!
Help us welcome our very special guest, Her Excellency Liberata Mulamula, Ambassador of the United Republic of Tanzania to the United States.

May 7, 2014
11:30 Registration
12:00-1:00 Luncheon Program
Town & Country Club
300 N Mississippi River Blvd
St Paul, MN 55104

To RSVP or for more information on hosting a table, please contact Carole Patrikakos at carole@booksforafrica.org or (651) 209-3488. No ticket purchase required.
Thank you to our sponsors:
Platinum Sponsor

Event Sponsors
In-kind donors
A new library for Nedjo!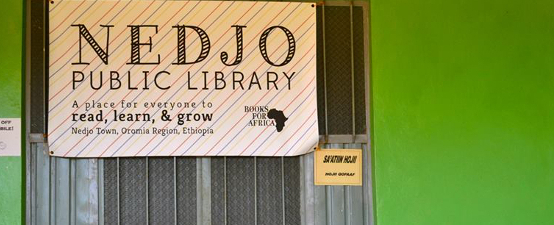 The Nedjo Public Library stays so full of eager students that the staff had to order more chairs after its first month of operation!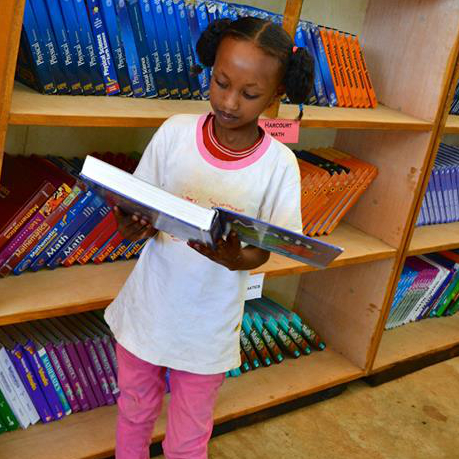 Just 30 days after opening, a total of 3,926 people had used the library, with 500-600 people visiting each day. It is the first library in Nedjo Town, Oromia Region, Ethiopia. Many of these students had never held a book on their own. Now, they have a beautiful new library filled with books to read.
The 3,000 students who visited the library are not the only community members taking advantage of the resources it holds. 913 teachers (462 of whom were women) visited the library. There, teachers can learn to improve education in Nedjo and expand possibilities for their pupils.
Nedjo Public Library has more than just books: visitors have the rare opportunity to surf the web. In a country where only one-percent of the population uses the internet,* broadband access is invaluable. Of the 594 visitors who logged 550 hours of internet use in the first month of library operations, 337 were female. Learners of all genders and all ages are able to embrace the digital content available on the internet at Nedjo Public Library.
The whole community is excited to have a place to celebrate reading. More than 700 people attended the Inaugural Ceremony including Jote Taddese, a member of the Books For Africa Board and the Container Captain who helped bring a library to Nedjo.
Thanks to Jote and the Najjo-Jarso Self-Help Foundation for stocking this library's shelves so generations of students will read, learn, and grow!
*Kelly et al. "Freedom on the Net 2013 – Ethiopia." Freedom House. Web publication. February 27, 2014. <http://www.freedomhouse.org/report>.
The Course Hero Knowledge Drive donates 100,000 books to Books for Africa!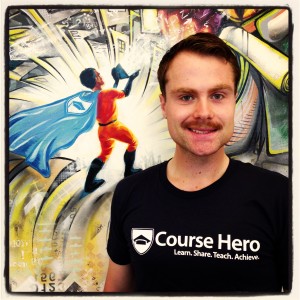 Guest post by: Taylor Stanton, Campus Manger with the Campus Operations Team
As a Manager at Course Hero, I have the great privilege to lead a team dedicated to making an impact in the global landscape of education. The highlight of my career with the Course Hero team is the fact that I get the opportunity to be involved with donating books to Gambia! As we donate our 100,000th book to The Gambia, I am excited to see that the Knowledge Drive has made such a massive impact in creating a more educated future—both here and abroad! Through our partnership with Books for Africa the driven Knowledge Drive Interns continue to show a burning passion for making a real life impact by furthering educational opportunities in The Gambia.
We share the words of a few students who have expressed enthusiasm and pride in knowing that their promotional work with the Knowledge Drive has made a real world impact. Our internship opportunity demonstrates that every day college students have the power to provide children abroad with the very basic building blocks of their education—and future.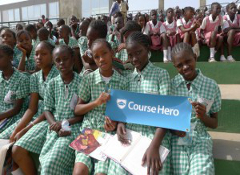 Sean Embrey-Stine, Occidental College '13
I didn't know much about the book famine before I became an intern for Course Hero, but as I began pitching to more and more students, I started getting questions about where exactly the books were going. I felt a responsibility to learn more, and now that I have, it has only made me more proud to be working for Course Hero and helping Books for Africa provide books to the people who need them most. Course Hero's partnership with Hand in Health is helping to provide resources not only to medical professionals and students, as Hand in Health had been doing before the partnership began in 2011, but also to libraries, local schools and hospitals. My favorite thing about the Knowledge Drive is that it provides a way for those of us who have limited financial resources, who are also very far away from Africa, to have an impact. Most organizations working in Africa simply ask for money, yet this partnership between Course Hero and Books for Africa allows young people like me to refine business, social media and development skills while simultaneously helping people overseas.
Sarah Grossman, Drake University '16
I'm a huge supporter of education; I believe that a solid education can change the world. So, when accepting this internship, it meant so much to me that I could help not only the students around me to learn and succeed, but also those abroad who have an even greater need for resources. At the end of the week, I can honestly say it is not the paycheck that makes me proud of the job I've done, but rather the left top corner of "How you are helping" and "How your group is helping," the "Books donated to students abroad" section, because those show me that I can be significant—I am really making a difference.
Abigail Carson, University of Oregon '14
It has been an honor to be a part of Books for Africa's new 100,000 book donation milestone. Working with Course Hero has made me feel that I have made an impact not only for the students on my campus, but also in educational opportunities worldwide. Every course upload and every book donation adds up over time to make a considerable difference in the world. I have found this to be the most motivating part of working with Course Hero and their philanthropic efforts.
Read more posts like this at the Course Hero Blog.
Books For Africa helps alleviate poverty of the imagination where imagination is most needed—where war and hunger, corruption and injustice seek to crush inspiration.

— Alexandra Fuller, author of the bestselling book Don't Let's Go to the Dogs Tonight