Success Stories & Recent News
What happens to a container of Books For Africa books once it arrives in Africa? What kind of impact will your donation have on the lives of children in Africa?
Here are some photos and stories about BFA shipments as well as recent news about our organization.
Course Hero Surpasses 200,000 Books Donated to Gambian Schools

Our friends at Course Hero have reached an impressive milestone, officially surpassing 200,000 books donated to BFA partner schools in The Gambia!
These books, donated via Course Hero's Knowledge Drive, are having a direct impact on the lives of students there, giving the next generation of Gambian parents, teachers, and leaders the tools they need to excel in school.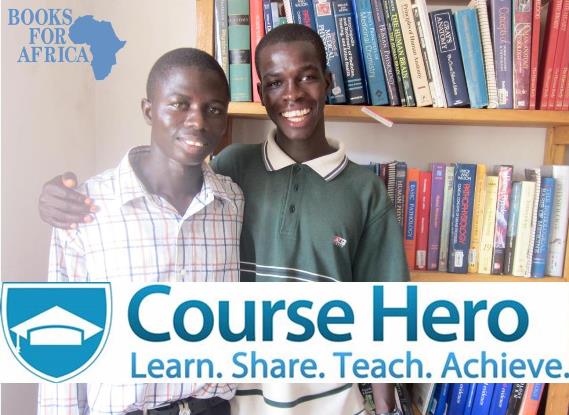 Books For Africa Executive Director Patrick Plonski conveys the impact that Course Hero has had on BFA's ongoing efforts to end the African book famine, noting that "Course Hero has become one of our most consistent and substantial donors over the past several years, and is the top donor for our 1 Million Books for Gambia project. We truly appreciate their very generous support resulting in the shipment of over 200,000 books to Africa since the beginning of our partnership in 2010."
The dedication of Course Hero employees, interns and student managers to creating a positive impact on global education has driven this success.
Course Hero's Rachel Tobac writes "I always dreamed of a role that would allow me to work with people who value global citizenship—not just the idea of it, but the scrappiness, resiliency, and compassion that global citizenship requires. Those traits are exactly how I would describe the interns and colleagues who I have the pleasure of working with on a daily basis. That's why it is such an honor to announce that together we have officially surpassed 200,000 book donations to our Books for Africa partner schools in The Gambia! Hitting this milestone directly reflects what we care about most here at Course Hero: Impacting education on a global scale—one document and one book at a time."
This enthusiasm has already made a major impact on the educational landscape in The Gambia; 200,000 books shipped is an amazing accomplishment, and as this partnership continues the sky is the limit!
Books For Africa delegation visits Malawi, South Africa
A Books For Africa delegation recently returned from a visit to Malawi and South Africa. Comprised of representatives from BFA, Out of Print Clothing, and Merck & Co., the team met with old friends, as well as making some great new connections. Stops on the trip included a visit with the Malawi National Library Service, meetings with Rotary partners in Malawi, and several stops in South Africa, where we continue to develop collaborative networks. There was also a chance to meet with recipients of Merck Medical Manuals, and hear firsthand about the positive impact these valuable resources are having in community and medical settings.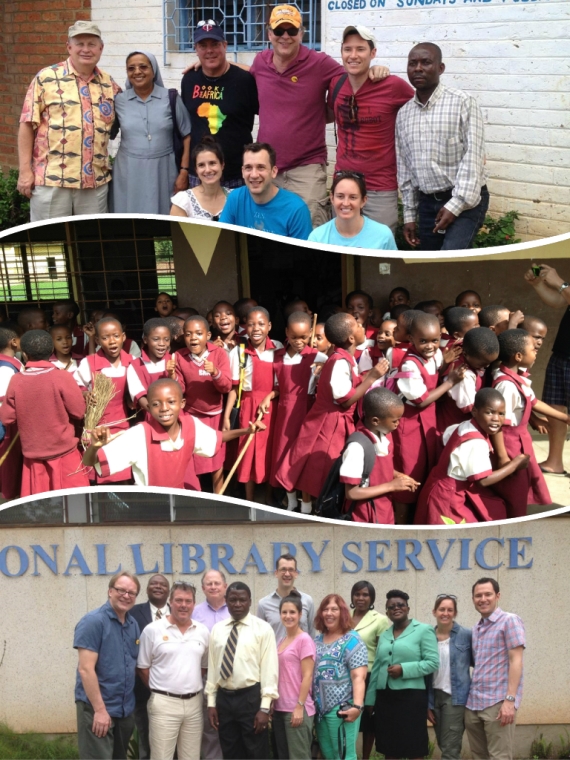 BFA is excited for the opportunities extending from this visit,be sure to check back for more news on these upcoming projects.
2014 Project for Awesome supports Books For Africa
Books For Africa was well represented at the 2014 Project for Awesome (stated mission: "decreasing worldsuck"). At least half a dozen supporters created videos on our behalf, and thousands of others viewed and commented on those videos. As a result BFA finished as one of the top 20 most viewed charities, securing a grant of over $10,000! BFA extends our thanks to everyone who supported us during this event, especially those who created these videos on our behalf. This grant will go a long way towards "decreasing worldsuck," sponsoring the shipment of over 20,000 books to the African continent! Stay tuned for more details on where these books land, and thanks again to everyone who made this possible!

Submitted by "Made by Mommy"


Submitted by "Hanna T"


Submitted by "vlogsiblings"


Submitted by "Alisa Lai


Submitted by "Addison Wand"

22,000 Books to Liberian Students Affected by Ebola Outbreak

More than 22,000 primary and secondary reading books collected by Books For Africa will be shipped to students in Liberia, who are currently out of school due to the Ebola outbreak. Funds for the shipment were donated to BFA during Give to the Max Day in November.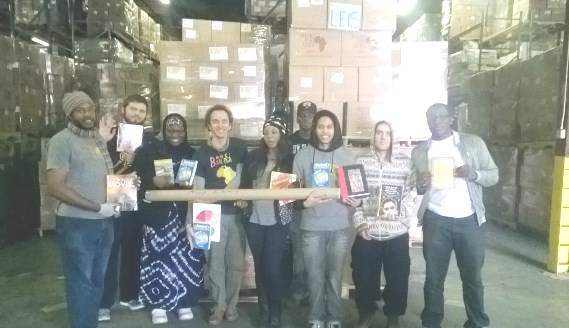 A ceremony recognizing the shipment and welcoming Ahmed Sirleaf of the U.S. Embassy staff in Monrovia was held Dec. 23 at the BFA warehouse in St. Paul, MN. Sirleaf, formerly with The Advocates for Human Rights in Minneapolis, will accept the donation on behalf of the Local Employee Staff Association of the U.S. Embassy. This container is currently en route to Liberia, and BFA is preparing additional books for shipment in 2015 to assist with continued efforts to educate Liberian children. Sirleaf detailed how the U.S. Embassy will distribute the books to Liberian families to encourage children to keep reading even though school is not currently in session.
Major General Neal Loidolt of the Minnesota National Guard was a special guest at the ceremony. General Loidolt will be commander of U.S. ground forces, including members of the Minnesota Guard's 34th Red Bull Infantry Division, who will be operating in Liberia supporting the U.S. Agency for International Development's response to the Ebola crisis from April to October of 2015.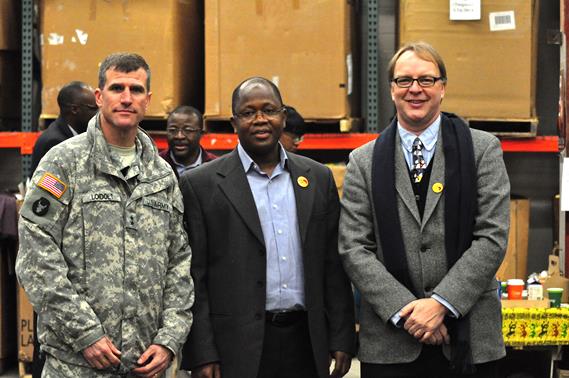 This collaborative effort has received a great deal of support, you can learn more by checking out the additional media coverage below:
WCCO - Books For Africa Helps Kids Idled By Ebola Crisis (Video, Story)
KSTP - Books Sent to Students in Ebola-Stricken Liberia (Video, Story)
Pioneer Press - National Recognition (Story)
MPR - Student books heading from Minnesota to Liberia (Story)
Star Tribune - Books For Africa sending 22K books to Liberian students affected by Ebola outbreak (Story)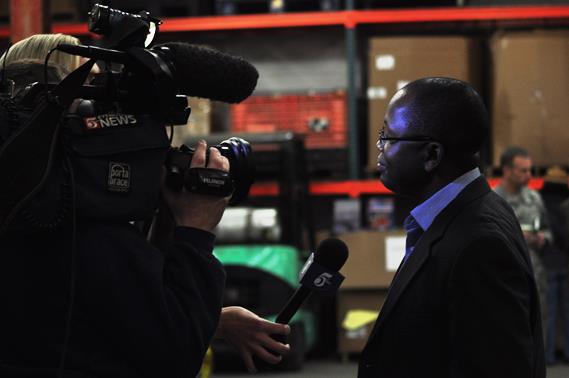 BFA books distributed across South Sudan

Two BFA containers of books were recently delivered to the Catholic University of South Sudan thanks to the generous support of The Sir Emeka Offor Foundation, Harriet McGuire, and Catholic Relief Services of South Sudan. One container has been put into circulation at Catholic University to enhance the educational experience of students there, while the other container has been distributed to 23 public and private learning institutions across the country.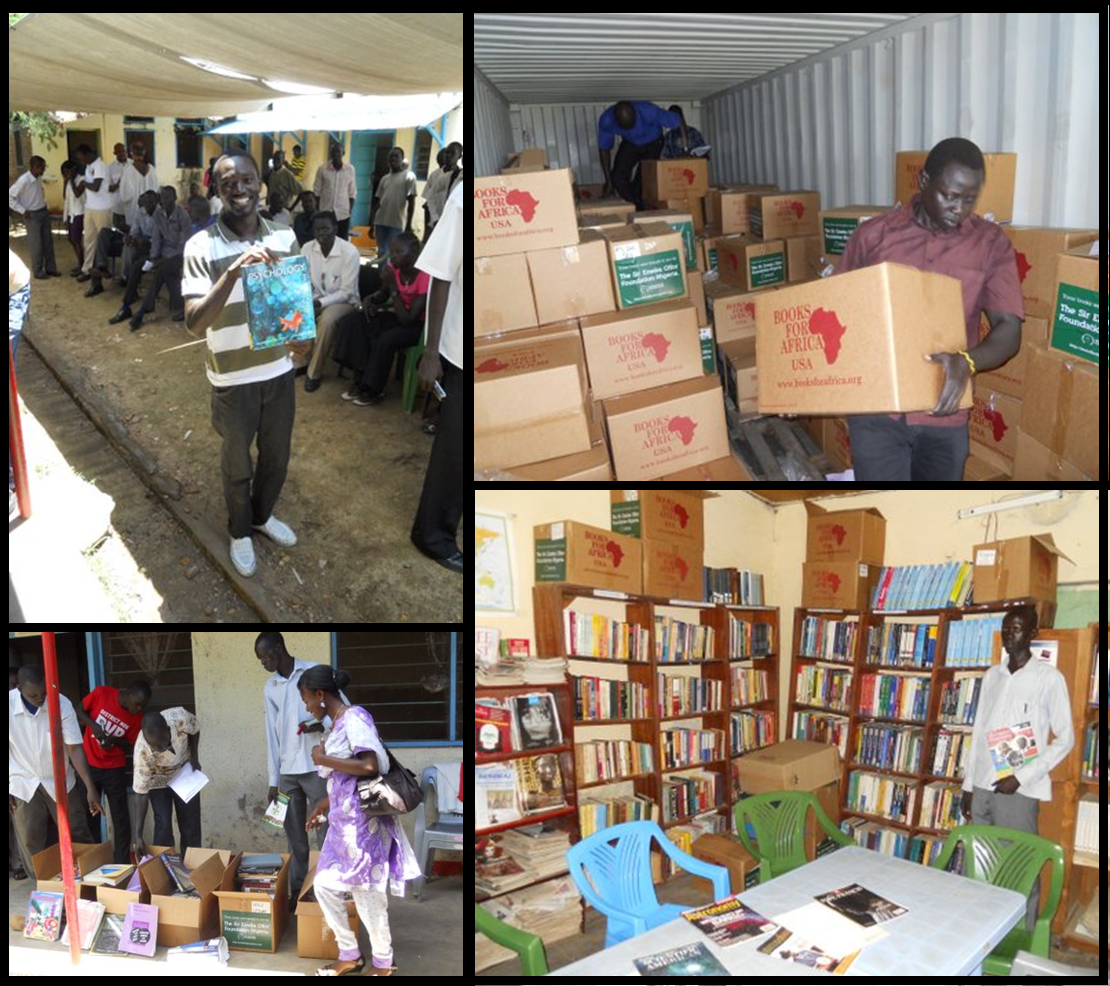 These books will benefit more that the students at the recipient schools; each institution receiving books has a library or reading center that is open to both students and the general public! The supplies delivered by this collaboration range from Law books for the Law School at Juba University, to educational materials for teacher's training centers, to high school texts and literature for schools and public libraries. This project will promote literacy and learning for students and communities across South Sudan.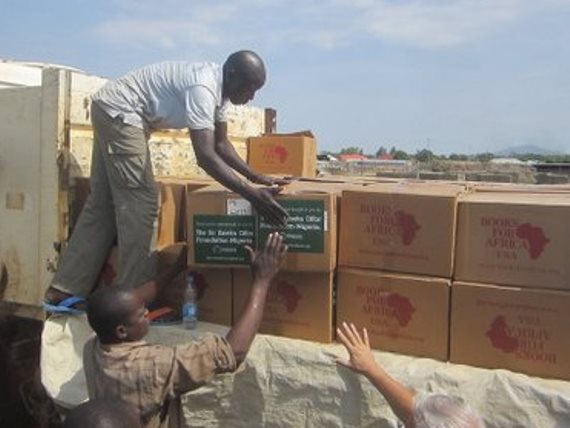 Books For Africa helps alleviate poverty of the imagination where imagination is most needed—where war and hunger, corruption and injustice seek to crush inspiration.

— Alexandra Fuller, author of the bestselling book Don't Let's Go to the Dogs Tonight