Success Stories & Recent News
What happens to a container of Books For Africa books once it arrives in Africa? What kind of impact will your donation have on the lives of children in Africa?
Here are some photos and stories about BFA shipments as well as recent news about our organization.
Why are more African countries adopting English as an official language?
On November 23, Books For Africa Executive Director Patrick Plonski presented research at the 56th Annual Meeting of the African Studies Association on a topic that comes up often at BFA: "Why are more African countries adopting English as an official language?"
BFA is the largest shipper of donated textbooks and educational materials to the African continent in the world; many of the books that are sent are written in English. Learn more about the growing use of English across Africa and why BFA books are making a difference in African schools and libraries.
"Why are more African countries adopting English as an official language?"
Paper written by Patrick Plonski, Asratie Teferra, and Rachel Brady
Presentation as given by Patrick Plonski at the 2013 ASA conference
A Second Chance for Students in Niger
At the Barbara Kirker Second Chance School in Maine-Soroa, Niger, students who enroll in school late get another shot at getting an education. After receiving books from Books For Africa through Medshare, these students now have plenty of reading materials to help them catch up to their peers who were able to start school at a younger age.
This special school offers an accelerated learning program for students who enrolled late in primary school. Students can complete six years of primary schooling in just four years, so they can matriculate and move onto secondary school with their peers.
Barbara Kirker Second Chance School serves 94 children between the ages of 9 and 14. Administrators expect enrollment to grow to as many as 120 students next year with new educational programs, including their recent library expansion.
On
e school administrator was overjoyed to share the new books with her students. "Most of the children at the school have never had a book of their own or even gotten the chance to sit down and simply look at a picture book. You have helped provide that exciting experience for our students," Kari Hidalgo said, "When I brought the first set of children into the library their eyes were alight with joy and they were thrilled at the chance to hold a book and turn the pages on their own."
Books For Africa Board Members React to the Westgate Tragedy
As Books For Africa was celebrating 25 years of work towards ending the book famine in Africa, tragedy struck half way around the world.
On September 21, 2013, jihadists stormed Nairobi's upscale shopping center, the Westgate Mall, firing indiscriminately.
This violence struck home with all Books For Africa supporters. We support our cause in hopes of creating a more peaceful future for people across the African continent through education. Especially for supporters who are members of the African diaspora, this act of violence highlights the importance of initiatives to create peace.
Education brings about understanding of those with different views, backgrounds, religion, and skin color. Reflecting on his education in Mombasa, Kenya, BFA Board Secretary Tom Gitaa noted that "A young person growing up [in Mombasa] experienced people from other countries firsthand and could make up his own mind about them based on those relationships. But not everyone in Africa has that opportunity; for many, the written word is the only way to learn about other people and other ideas. Literacy gives people hope and broadens their perspective."
Read more from Tom Gitaa and fellow BFA board member Asratie Teferra on the Westgate Tragedy from the Star Tribune (Minneapolis, MN, USA).
BFA Saw Great Success at 25th Anniversary Gala and Warehouse Party!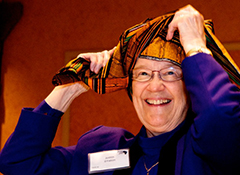 On September 20, 2013, Books For Africa celebrated 29 million books and 25 years at the BFA 25th Anniversary Silver Jubilee Gala. We hosted a big event to celebrate all of the people and projects that have helped us in our mission to end the book famine in Africa.
We kicked off the event with a VIP Reception at Windows on the River at the Crowne Plaza St. Paul Riverfront Hotel, where St. Paul Mayor Chris Coleman and a number of our VIPs addressed the audience, including the Ethiopian Ambassador to the U.S., the Tanzanian Ambassador to the U.S., and former Tanzanian First Lady Anna Mkapa.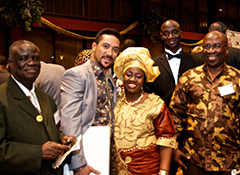 Then our guests made their way downstairs to join other BFA supporters for our pre-gala festivities, including music from KFAI African Rhythms and a fashion show with designs by Yvonne Johnson of Milu Milu Couture.
We then sat nearly 500 glowing supporters for a formal dinner featuring an address from U.S. Senator Amy Klobuchar (D-MN); Books For Africa Board members, founder, and volunteers; a special song written just for the anniversary event; a live auction; and a keynote address from Nayaradzayi Gumbonzvanda, World YWCA General Secretary.
The following day, we hosted the annual Books For Africa Warehouse Party/Braii at our new St. Paul warehouse. With so many folks in town for the anniversary, the Warehouse Party was a great success!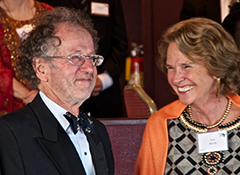 We hosted two bands: Black Market Brass, a local Afro-jazz band, and the one and only Books For Africa Warehouse Band, made up of musical members of our St. Paul and Georgia warehouse staffs.
Guests enjoyed free wine, beer, and South African BBQ from Amara Wines, owned by BFA Board Member Bob Marx and a major in-kind donor for the BFA 25th Anniversary Year. The Cave Café food truck was there as well to offer up Afro-Italiano fusion food throughout the evening. People danced, ate, drank, and were merry at the free Books For Africa event!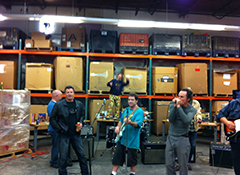 It was a lovely celebration of 25 years of work, and an inspiration for the next leg of the journey as we continue our work to end the book famine in Africa.
See more photos of the Silver Jubilee Gala on our Flickr here.
See more photos of our Warehouse Party on our Flickr here.
Check out event coverage in the Star Tribune [Minneapolis, MN, USA].
Thank you to BFA's Anniversary year sponsors:
Platinum Sponsor:
Gold Sponsors:
Partner Sponsor:
Gala Sponsors:
Major In-Kind Donors:

Thank you to our other in-kind donors: Linder's and KFAI African Rhythms
French Books Are Bound for Cameroon!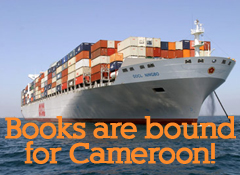 Books For Africa is thrilled that a container of 50,000 French books is on the way from a partner in France to Douala, Cameroon for our friends at Counterpart International! The books should arrive soon to fill libraries in Cameroon with high-quality French-language books so that students can read, learn, and grow.
Books For Africa helps alleviate poverty of the imagination where imagination is most needed—where war and hunger, corruption and injustice seek to crush inspiration.

— Alexandra Fuller, author of the bestselling book Don't Let's Go to the Dogs Tonight