Partners & Funders
In fiscal year 2001, Books For Africa sent 40 container shipments of books to Africa. In 2011, we sent 178 containers—about 1.9 million books to 21 countries! This significant growth was achieved thanks to the generous support of our funders, especially Better World Books.
Books For Africa receives financial support from Oprah's Angel Network, the OPEC Fund For International Development (OFID), Better World Books, the United States Agency for International Development (USAID), and other foundations, corporations, and individuals to cover the high costs of shipping books to Africa. Their support is leveraged by significant in-kind support from Better World Books, Follett Educational Services, Encyclopaedia Britannica, and many schools, publishers, libraries, and individuals. Books For Africa has received the highest ratings from Charity Navigator and the Minnesota Charities Review Council.
Better World Books is a *triple-bottom-line online bookstore. Each book purchased on the site powers a book donation to someone in need. Book for Book. The company also uses revenue to fund literacy organizations including Books for Africa. In addition to their work for literacy, Better World Books diverts books from the landfill and offers carbon-balanced shipping.
Better World Books by the Numbers:
Over 6 million books donated
Over $11 million raised for literacy & libraries
Over 70 million books re-used or recycled
Over 29,000 pounds of carbon emissions offset
*Triple-bottom-line means that Better World Books works equally for people, planet and profit.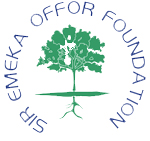 The Sir Emeka Offor Foundation (SEOF) is the philanthropic branch of the Chrome Group, a group of organizations involved in the Nigerian oil industry. The Foundation is a Nigerian non-governmental organization with the mission to help raise Nigerians from poverty. SEOF largely focuses on providing quality education and educational materials to Nigerian students of all ages. BFA is pleased to partner with the Sir Emeka Offor Foundation on the signing of a $400,000 Memorandum of Understanding in 2011 as well as future projects.
A generous 2008 grant from Oprah's Angel Network will be used to ship nine 40-foot sea containers of books to school-age children in South Africa, Tanzania, and Liberia who currently have little or no access to reading materials.

Through a partnership with the USAID Africa Education Initiative, Books For Africa shipped eighteen 40-foot containers of textbooks in 2007 to eight African countries: Ethiopia, Ghana, Liberia, Madagascar, Senegal, South Africa, Tanzania, and Zambia. Over 500,000 books valued at over $2.6 million were shipped through this partnership with USAID.
Now, 20,000 students in 30 schools in 30 communities have access to books that will broaden individual horizons, enhance classrooms, and maybe significantly change a life or two.

—

Rose Zulliger, Peace Corps Volunteer who organized and distributed a BFA shipment in South Africa