Upcoming Books For Africa Events
BFA Atlanta Event: Chocolate and Wine, Books Are Divine!
Sunday, October 12, 2014 from 6:00 PM to 9:00 PM (PDT)
Atlanta, GA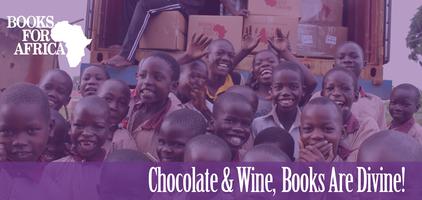 It is our pleasure to invite you to this exclusive event held at the beautiful Buckhead home of Jim Munson, the Chairman of the South African-American Business Chamber. We will introduce you to the great and important work of some exemplary Atlantans leading projects to improve education in African countries.

About the event:

We will be taken on a culinary adventure of Madagascar Chocolate paired with wine chosen by our guide Chef Kyle Reynolds and his staff from Le Cordon Bleu. He and his team will also grace us with heavy gourmet hors d' oeuvres.

Tickets are available for $85, see more information and register via Eventbrite.